Mon Cheri The Lily Collection Skincare Set Review From Sabrina Tajudin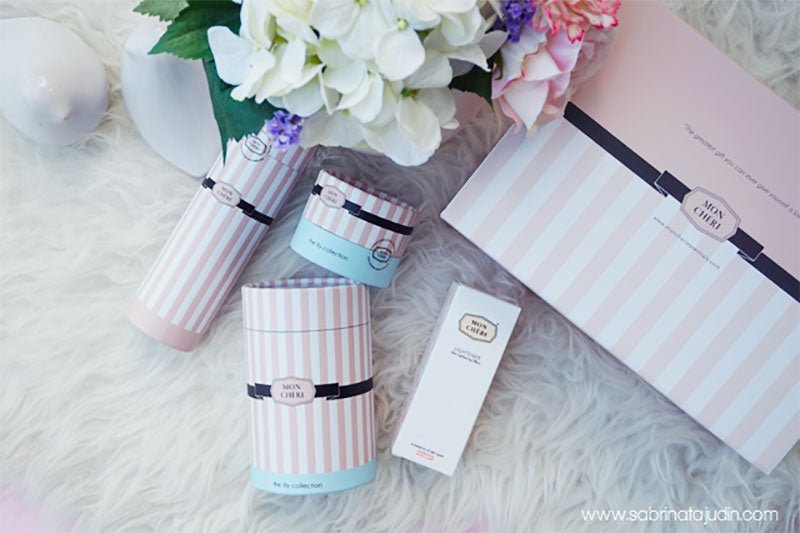 Adorable packaging that that melts away any girl at heart for this set. Come in the mail with a box and as I open it. It just put a smile on my face. Today post is going to be filled with lots of sweet sweet beautiful skincare called the MON CHÉRI. The set that I got is called the 
The Lily Collection .
 MON CHÉRI which is originated from the French heritage, is a skincare line that encourages you to cherish your inner and outer beauty, comfortable with your own skin and basically that confident girl in you. Featured in The Sun newspaper, Caroline Ooi the CEO of Mon Cheri Essentials believe that everyone can achieve healthy skin with these premium skincare line. Now let's get on to the review.
Yep, this is how the box came with. The full set in the Lily collection comes in 3 products packed in a hard sturdy box. Each product also we re packed inside a cylinder paper box too. The other extra product I got is the special product called the lightener. Will get to that in this post.
As I unpack all of the product, this is how they looks like. Still cute! You can still keep the cylinder paper box to store them back, or basically put it on your room as a decor. Super cute. Here we have the cleanser (the one with the pump), the moisturizer (small jar on top), a toner (the taller transparent bottle), and the Lightener (the far on the right). On bottom of the paper packaging paper too there is the description and label. I really love how detailed each product is presented. Kudos to you Mon Cheri! Another special thing about this set is that, when you are ordering, you can choose the suitable skin type to each product. You can make your before adding it to cart to each cleanser, toner and moisturizer. In my case, all of my skincare items here are in Normal to Combination Skin Type set. Don't now what is your skin type? They can guide you here