Skincare Must-Know: Hyaluronic Acid And Its Benefits For The Skin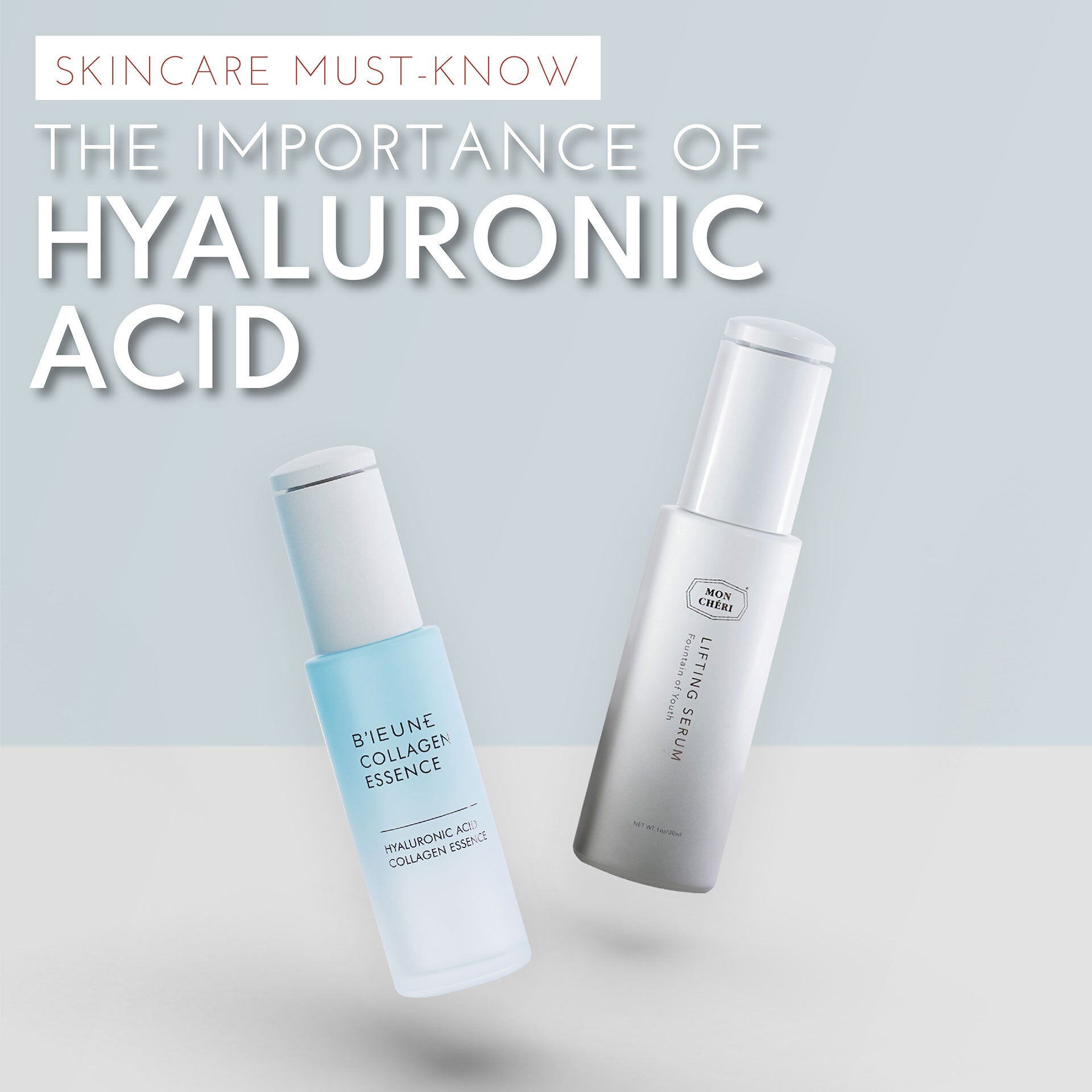 Hyaluronic acid is an essential key ingredient that has been much raved about amongst the skincare community and all for good reasons. In this today's blog, we present you with a breakdown of all that you need to know about this holy grail of an ingredient to help you decide if hyaluronic acid is truly worthy of your investment, or it is just another thing that people "sell" to you, just so you have to spend more money without knowing any better.
What Is Hyaluronic Acid?
Hyaluronic acid is an impressive rudimentary key molecule in our bodies that has a unique ability of not just preserving moisture in our skin and joints, but also to attract water. It also acts as a bodyguard of sorts by preventing your skin from losing moisturisation through evaporation. So in terms of hyaluronic acid's function in skincare products, it is commonly known to be used as a humectant ingredient to assist the skin in retaining moisture.
If hyaluronic acid exists naturally, why do I need to apply it topically?
As we age over time, the hyaluronic acid in our skin will slowly diminish, just like how our skin loses its collagen. Research has shown that the main factor leading to the depletion of natural hyaluronic acid is due to inflammation. According to dermatologists, this would commonly occur to people who lack the consumption of fruits and vegetables that are filled with high levels of antioxidants, which are known to reduce the likelihood of inflammation, thus helping skin retain hyaluronic acid. Therefore, this is the reason many people are purchasing skincare products that are heavily armed with hyaluronic acid, as results have proven its usefulness in consumers having a far more superior visibility of smoother skin.
What skincare products usually contain hyaluronic acid?
If you are now convinced for the need of a hyaluronic acid-packed product(s), you would want to be looking for products such as these:
Serum:
It contains vital antioxidants, vitamins A, C, and E, and a high concentration of hyaluronic acid. Serum is effective as a facial moisturiser and popular amongst people with a targeted concern that comes with ageing and wrinkles. Another advantage of using a serum is that it rids you of facial scars and hastens the recovery process - possibly faster than getting laser-treatments.

Most Effective: Apply the oil-based serum after you have moisturised your face with a moisturiser because it has a larger molecule. Basically, the serum is like a blanket that helps keep the moisture locked to your skin the entire day.
Essence:
Many assume that Essence and Serum are two products with the same function. However, essence focuses more on the hydration of your skin and is not as concentrated as a serum. The essence will give you that youthful glow that many look for, especially as you are entering your mid-30s onwards. You may or may not feel that essence is essential, especially if you are on a budget, but it really depends on how much more added care you want to take for your skin.

Most Effective: Dermatologists recommend that you apply essence before you reach for the serum, as it has a water-like consistency and will give you a refreshing feel, especially for those who are not a fan of a thick-greasy layer on your skin.
Gel:
It is oil-free so this is very much preferred by people with both acne-prone and oily skin. The water-based gel moisturiser is easily absorbed and is equally as effective as a cream moisturiser, but does not leave behind an oily and thick layer on your skin. One highlight about this is it lifts up the saggy wrinkles and smoothens it evenly, so you can look younger and more radiant than ever.

Most Effective: If you are going to start using a gel moisturiser as part of your skincare routine, you will have to commit to doing it twice a day, and only after fully cleansing your face.

Important:
Hyaluronic acid does not work as a moisturiser if used in its pure form as it will lead to dry and flaky skin. It requires occlusive or emollient ingredients to help lock moisture in.
Meet Sodium Hyaluronate: Hyaluronic Acid's cousin
While sharing information on hyaluronic acid with you, it may also be worth mentioning about sodium hyaluronate, a.k.a the salt form of hyaluronic acid. Sodium hyaluronate has a smaller molecular structure, making it easier to penetrate deeper levels of the skin. It also aids in the prevention of scarring, further skin damages and enables better absorption. Sodium hyaluronate is not necessarily better than hyaluronic acid despite carrying similar benefits, but take note that many products tend to label sodium hyaluronate as hyaluronic acid. However, there are differences. Using both these ingredients together would promise better and efficient results.
What benefits can you expect with hyaluronic acid?
Increased healing from skin damages
Reduced fine lines and wrinkles
Reduced skin infection (bacterial and fungal infections on face)
Supple, youthful and dewy skin
Who is hyaluronic acid for? Is it suitable for all skin types?
Hyaluronic acid rarely causes a bad reaction to any skin type when used properly. However, it could potentially cause side effects if used in a dry environment without a supporting moisturiser. As hyaluronic draws moisture from the environment, if you are in a dry area, the acid will start to draw water from the deeper layers of your skin - causing further dehydration of the skin.

Bonus:
Malaysia's humid weather makes it ideal for hyaluronic acid to work its magic. With a high moisture level in the environment, this ingredient works well in keeping the skin's moisture. However, hyaluronic acid does not treat acne, so using it to cure acne is not as productive as the main purpose is as a humectant.


Mon Chéri B'IEUNE Hyaluronic Acid Collagen Essence for deep moisturising and anti-ageing.
Conclusion
Hyaluronic acid will help you gain skin suppleness and elasticity. For safety, research on the product that states the presence of hyaluronic acid, or consult your doctor before purchasing. This isn't just another hype active ingredient as you will see that results are satisfactory. We hope we've helped you learn more about hyaluronic acid and aid you in making the best choices for your skin.