Here's Why You Must Not Skip Moisturisers in Your Skincare Routine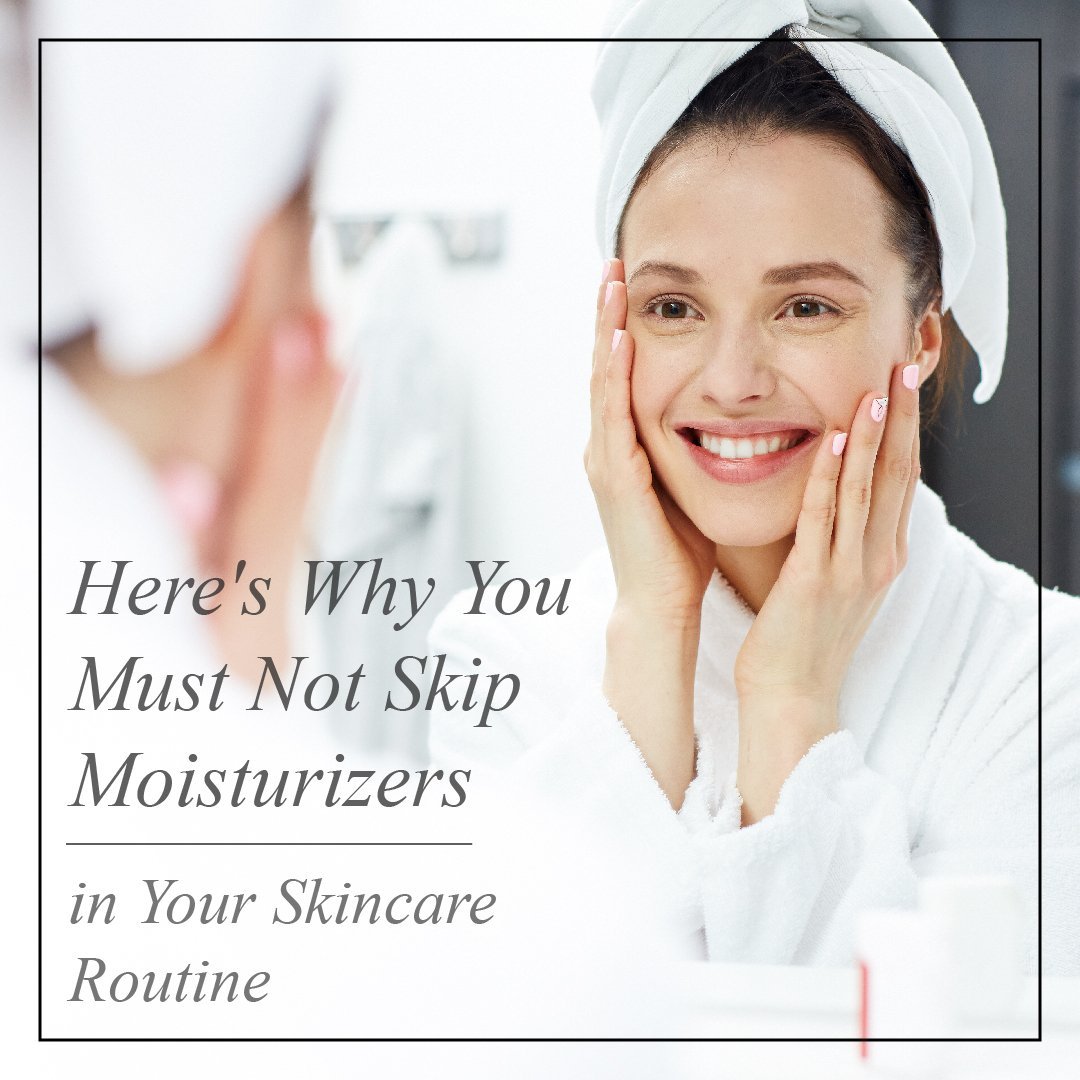 Do you plan on cutting out moisturisers from your skincare regime? Worst still, do you still not have a moisturiser in your skincare regime? Or are you perhaps just curious why you even need a moisturiser? You've come to the right site, as we've compiled all that you need to know about moisturisers and give you good reasons as to why you should NEVER EVER skip moisturisers. 
The Importance of Moisturisers
1) Help your skin maintain hydration levels
Moisturisers such as humectants will aid your skin to draw water to the skin to maintain skin hydration. There are two types of humectants in moisturisers: synthetic and natural.
Source: Pinterest
Examples of synthetic humectant:
Butylene glycol

Urea

Glycerin

Tremella extract

Sorbitol

Dicyanamide

Sodium PCA

Sodium lactate
Examples of natural humectant:
Hyaluronic acid

Aloe vera

Alpha hydroxy acid

Honey

Seaweed
These types of moisturisers are not advised for those with extremely dry skin as they do draw out water from your deeper layers of the dermis. However, it is advisable for people with normal skin types in humid climates like Malaysia. 
2) Help your skin's ability to maintain moisture
Some people have naturally dry skin, and this simply means that some of their skin cells have missing lipids. This also happens in our skin as we grow older as it is common for gaps between skin cells to appear. Emollients are specific types of moisturisers that will help fill these missing lipids. 
Source: https://www.doublebase.com/emollients/
Examples of emollients: 
Shea butter

Cocoa butter

Mineral oil

Lanolin

Petrolatum

Paraffin

Beeswax

Squalene

Coconut, jojoba, sesame, almond, and other plant oils

Cetyl alcohol

Olive oil (oleic acid)

Triethylhexanoin
Emollients are for you if you've noticed your skin drying out as years pass or if you naturally have a dry skin type. These ingredients will aid your skin by filling the gaps and keeping skin barrier tact in terms of hydration.
3) Helps heal damaged skin 
Does your skin seem extremely damaged and maybe even a little saggy? This is most probably due to the depletion of ceramide levels, a waxy lipid that helps your skin look bouncy and youthful. Damaged skin such as those with eczema conditions has depleted ceramide giving the skin the dull and 'rough' texture. Moisturisers with ceramide will help regain the health level of your skin to bring back the glow it once had. Ceramide cannot be obtained from any other natural or synthetic product. 
Source: https://www.semanticscholar.org/
4) Helps ease itchiness and flakiness
Specific moisturisers such as those with occlusives will help ease itchy and flaky skin. 
Examples of occlusives: 
Mineral oil

Petrolatum

Lanolin

Beeswax

Olive oil

Argan oil

Jojoba oil

Safflower oil

Tamanu oil
Occlsuives work extremely well for chronically dry skin as it helps traps moisture in the skin barrier. It is especially good for people from countries with dry climates. It also provides protection against allergens from entering skin barrier which reduces skin itchiness. 
What Happens If I Stop Using Moisturisers?
1) Breakout Breakout Breakout
When your skin is dry, it will try to compensate by producing natural oil to maintain the hydration level. The overproduction of oil tends to clog pores leading to bacterias to breed on your face (and that's what causes acne).
2) Blemishes and Scars
What's worse than breakouts? Many would say scars and blemishes (and we kinda agree). The reason why scars and blemishes occur is also due to the continuous dry state of your skin leading to pigmentation and bruising of your skin.
3) Fine Lines and Wrinkles
Dehydration of skin leads to the formation of fine lines and wrinkles. As you age, your skin tends to become more and more dehydrated hence being a contributing factor to the formation of wrinkles. 
4) Dullness
Skin without moisturisers generally tends to look duller than others as it is dehydrated. This is why most of our skins tend to look healthy in the morning and get's duller as the day passes as our skin is losing water throughout the day and will tend to look even duller without moisturisers.
But Moisturisers Are Breaking Me Out!
But I Hate The Feeling Of Moisturisers On My Skin!
Yes, we understand your concerns but it all comes down to choosing the right moisturisers based on your skin type. The discomfort you're feeling is most likely due to the usage of the wrong moisturiser type.
Choose The Right Moisturiser For Your Skin Type
Mon Chéri Moisturiser for all skin types.
Moisturisers for oily skin 
Oily skin does not mean you should cut out moisturising. It simply means that your skin is lacking moisture thus its' producing oil to compensate for the dryness. Look for moisturisers containing humectants to deal with your skin concerns. 
Moisturisers for acne-prone skin  
Firstly, identify the cause of your acne; dryness or oiliness? Based on the root cause, the type of moisturisers you should use would differ. If the acne problem originates from an overproduction of oil, we'd suggest humectants too. However, if you're one to have extremely dry and acne-prone skin, opt for moisturisers for emollients instead. 
Moisturisers for dry skin
If you have dry skin-type, stay away from humectants and try out emollients containing moisturisers. This, however, may not suit you if dryness continues and then you can try to opt for occlusives to better seal the moisture on your skin.
Conclusion
Self-care starts with placing care for your skin. Greater skin conditions simply mean greater confidence and self-satisfaction. Moisturising is the basic kind of self-love you should be carrying out for so that your future self will thank you.