Have you seen our NEW Lily Collection?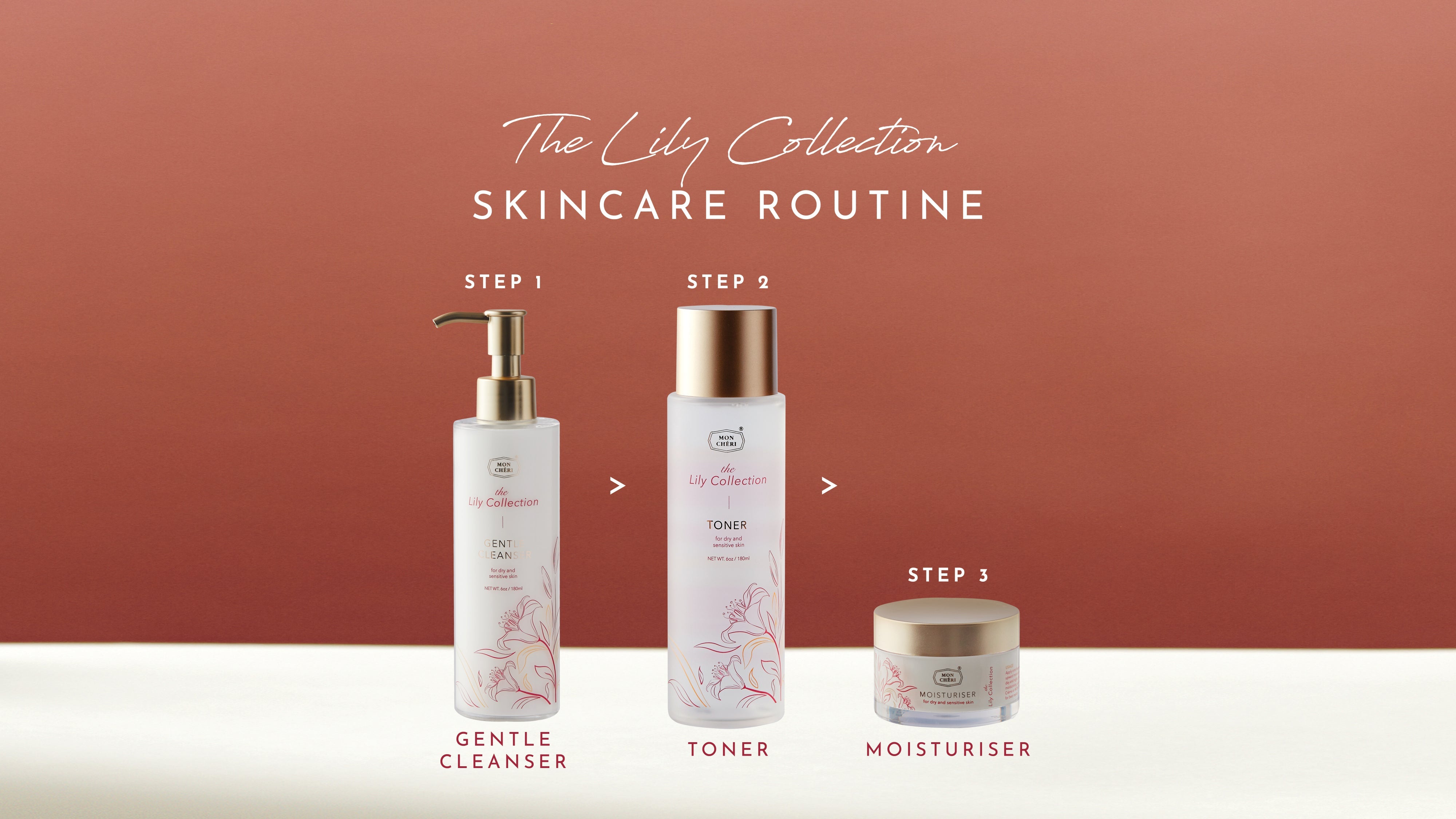 Bonjour, mes chères!
We are super, super excited to finally be able to share these new and upgraded Lily Collection skincare sets. These new packaging will be available on our shelves from today onwards. You may also purchase them on our official website! 
Looking for an effective morning and night skincare routine? Mon Chéri's NEW and UPGRADED Lily Collection includes the first and three most critical steps in a regime!
This set is suitable as the ultimate beginner's guide to skincare and ideal for minimalist skin lovers. The 3-step essential skincare items—cleanser, toner, and moisturizer—are rich in natural active ingredients, bringing all the nutrition, freshness, comfort, and softness that your skin needs. 
Step 1: Cleanse
The general rule of thumb is to clean your skin twice per day—once in the morning, once in the evening—is ideal.
Step 2: Prep your skin
After washing your face, it's time to prep it with a toner. It helps to soften the skin to absorb the skincare ingredients better.
Step 3: Moisturise
Never skip the moisturizing step, as this is an essential measure in any skincare routine. Mon Chéri's moisturizer can help to maintain the skin barrier's health and keep the skin protected and hydrated all day long.
We are still committed to making natural beauty accessible to everyone in the most sustainable and natural ways. The NEW Lily Collection skincare comes in four different skin types :
Normal to Combination Skin
Skin that has a combination of oily and dry areas (oily T-Zone, dry cheeks)
Dry & Sensitive Skin
Skin with dry and flakey areas that may feel tight.
Oily Skin
Skin that looks shiny due to an overproduction of oil.
Aging and Sun Damaged Skin
Skin with premature wrinkling and skin damage from sun exposure.
Once you've determined your skin type, you can start your daily beauty routine with a cleanser, calm your skin with toner, and follow up with a moisturizer for protection.
Mon Chéri has been around since 2014, and we have stayed true to our brand's philosophy—confidence starts with our skin. As a genuinely gentle skincare brand, our products are made with skin-loving ingredients and added vitamins for better and healthier-looking skin! Our products are proudly formulated in France, HALAL-certified, paraben-free, with no lanolin, no SLS, or other harsh chemicals that may upset our skin.